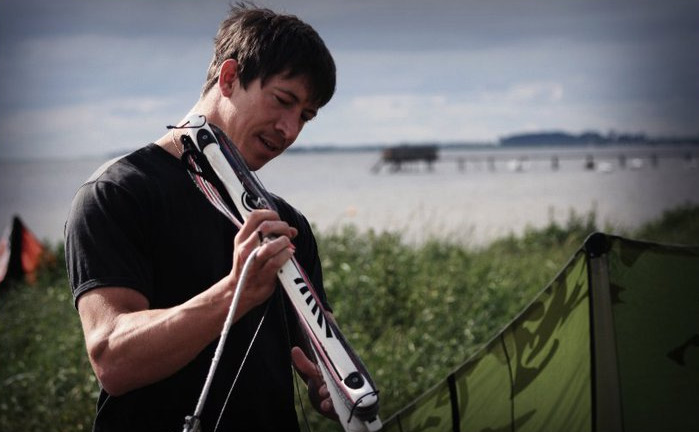 Once upon a time a I worked as a consult, the year was 2007. Most of the time I sat on my ass in front of the computer, drawing some meaningless 2D-drawing or indifferently rotating a 3D-model of some strange mechanical part. I was just another ordinary day at the office when a new guy that just had started to work at my job was placed next to me. As usual when meeting a new person, we began to talk about our respective backgrounds and previous jobs. I was astonished when my new colleague, Claes Lundin, told me that he spent the past six years traveling around the world snow-kiting and kitesurfing. Claes turned out to be a Swedish Master champion in snowkiting! At this time I had never before heard of neither kitesurfing nor snowkiting, but was completely stoked when Claes showed me a cool kite video on the internet. In that moment I already decided to try out this sport and I pictured myself jumping and making all kind of cool tricks (something that later turned out to take years of trial and error to master)!
Nevertheless, it took two years before I finally got the thumb out booked a kitesurfing course in Gothenburg. The first day of the course was more or less windless. Me and two other guys got the chance to fly around a trainer kite before the wind died completely. During the second day of the course there was better wind and I practiced a bit of bodydragging and tried a boardstart before the course ended. I was light years from fully-trained after this course. As a matter of fact I was not even close to start kitesurfing on my own after this course!
I was however committed to learn kitesurfing and I bought the needed equipment right away. As soon as I got the chance I went to the beach to practice, barely knowing how to rig the kite… I was probably pure luck that I didn't hurt myself or someone else during these first attempts to figure out how to even get up on the board. Finally, after about 10 sessions, I started to get the grip of how to handle the kite and it just got more fun as I learned to pilot the kite and as my feeling for the wind got better. The ultimate reward after all hard work could not be described as anything less than fantastic, I had learned to kitesurf!
At this time I was completely hooked kitesurfing and went out on the water as soon as I got the chance, it didn't matter if it was raining or if it was 2 degrees in the water and freezing cold wind, as long I as could kitesurf!

I attended an IKO kitesurfing course in 2012 in Denmark and became a certified kitesurfing instructor. That same year I also started my little kite school Gusty and have since learned hundreds of people to kitesurf. To learn and share my passion with other people is something I really enjoy. I know what it feels like as a beginner when all pieces fall in place and how satisfied and happy you feel after riding your first few meters on the board. To take part of these moments is valuable to me and I am grateful to be able to share my tips and tricks that are very important and useful when a complete beginner is learning kitesurfing.

As an instructor, I often hear that I am calm, safe and patient. I take this as compliments 😉 No matter what, my goal is always that you as a student will learn to kitesurf in a fast, fun and safe manner. Therefore, in order for you as a student to get the most out of your course, I never take more than two students at a time as I know how important it is for both safety and learning to literally have someone hold your hands when it's windy!

/Gustav